Meet the Jada Girls
Four extraordinary singers united by a common goal, Jada is the latest iteration of the classic female vocal group. Since coming together, all four members have devoted themselves heart and soul to Jada. Their self-titled debut marks the culmination of a remarkable journey in which these talented individuals came together to create a beautifully cohesive whole. From the album-opening ballad "Is It Love" to the sassy RedOne/Akon-produced first single, American Cowboy, Jada is a bright and brazen mix of pop, soul, dance, and R&B, spiced by Jada's characteristic gospel-inspired harmonies. The powerhouse sound is not dissimilar to the girls themselves – soulful and sophisticated, sexy and strong, heartfelt and honest, flirty and fun.




Songs and Performances
On November 20, 2012, Jada released the song, Stop My Heart, on Jay Dabhi's album, The WeekEND. The album debuted in the iTunes Top 100 Dance Albums! Featured vocals include Jada, G-Deep, MMAIO Fan Page, Real Kelvin Scott & Sagi-Rei. You can download Jada's new song now from Soltrenz Records/ Strictly Rhythm on iTunes! Read the full story here on the album's release.
Their new five song  EP,  Supersonique, follows  on the heels  of their Rio-produced single, This Party's On Fire, and their Universal Motown releases – Break Up Song, produced by Wayne Wilkins & Andrew Frampton (Britney Spears/Natasha Bedingfield) and their international hit single American Cowboy, produced by Akon and RedOne (Lady Gaga). The group's songs have been featured on FOX's House, MTV's The City, and on the Bring It On-In It To Win It soundtrack. The American Cowboy music video was directed by Ray Kay, one of the most sought-after music video directors in the music industry.
The group has wowed audiences with their boundless talent and irrepressible energy at countless fairs, festivals, televised events, concerts and major sporting events including such venues as Madison Square Garden, the TD Garden, the Comcast Center, Gillette Stadium, Hershey Park, Six Flags and Disney's Pleasure Island.
They have performed the National Anthem for the Boston Red Sox, the New England Patriots, the Boston Celtics Playoff Series, the Boston Bruins and the National Boxing Championships. Jada has also shared the stage with The Black Eyed Peas, Akon, Ciara, Jesse McCartney, Flo Rida, Boyz II Men, Sean Kingston, All American Rejects and countless others. The group has toured extensively throughout the US in support of their single releases with Simon Mall D'Tour Live, Radio Disney Summer Concert Series and a National Top 40 Radio Concert Tour.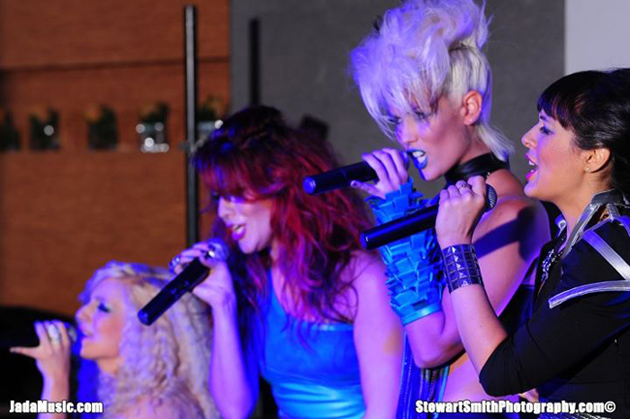 Musical Style and Influences
Jada is known for their mix of pop music, soul, dance, and R&B styling, and their gospel-inspired harmonies. Each singer has her own individual style. Jacyn's voice stems from tastes of pop and rock from the musicians Pink to Paramore. April focuses on a hip-hop and urban sound and fashion from the likes of T.I. and Timbaland. Lauren has influences from suburban Philadelphia in neo-soul legends like Jill Scott and Musiq Soulchild. Finally, Elle has a unique style in her own with hints of Rascal Flatts and John Legend to Lady Gaga.
Music Drives Us Foundation
Jada was the first Ambassador for Ernie Boch Jr.'s, Music Drives Us Foundation and has made many appearances as part of this foundation, such as guest judges at various Hard Rock Cafe Battle of the Bands. Visit the official Music Drives Us website to learn more about the foundation.
Vitae
Below contains highlights of Jada's biography and achievements.
AMERICAN COWBOY
Produced by Akon/RedOne Top 40 international hit single released to radio & iTunes. Featured on FOX's "House". Music video directed by Ray Kay. Featured on MTV, MTV2, FUSE, Music Choice & more.
SUPERSONIQUE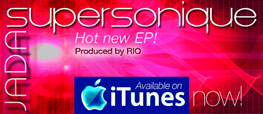 5-song EP, written/produced by RIO and Jada, featuring some of Jada's favorite songs across multiple music genres, including, the hypnotizing dance/pop track, "Supersonique", "This Party's On Fire" with its electric house beats, the haunting uptempo, "Mercy Killing", the poignant mid tempo homage to Ne-Yo, "Can't Let Go", and the emotional "Goodbye" showcasing Jada's vocal virtuosity.
THIS PARTY'S ON FIRE
Produced by RIO. Released to radio and iTunes. Music video directed by Vassili Shields. Featured on FUSE TV On Demand. Check out the official page for the music video and single release launch party live from Boston!
BREAK UP SONG
Produced by Wayne Wilkins & Andrew Frampton (Britney Spears/Natasha Bedingfield).
MODEL THAT
Produced by RedOne. Featured on MTV's "The City".
I'M THAT CHICK
Produced by JR Rotem. Featured on the "BRING IT ON IV: IN IT TO WIN IT" Soundtrack.
WON
Outstanding Pop/R&B Act at the Boston Music Awards.
TOURED WITH
Simon Mall (Simon Property Group) D'Tour Live, Radio Disney Summer Concert Series, National Radio Concert Tour Spring/Summer 09 including WXKS-FM (KISS 108 FM) Concert at the Comcast Center Boston, WBHT Concert, WKSZ Concert, WKGS KISS 106.7 Concert and more.
SHARED STAGE WITH
The Black Eyed Peas, Ciara, Akon, Sean Kingston, Boyz II Men, JoJo (singer), Ashanti, Flo Rida, All American Rejects, Plain White T's, Jesse McCartney, Soulja Boy, Hall and Oates, Susan Tedeschi, The Rascals and others.
PERFORMED AT MAJOR EVENTS & VENUES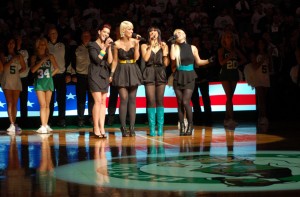 National Anthem at Gillette Stadium for the New England Patriots, Fenway Park for the Boston Red Sox, TD Garden for the Boston Bruins and the Boston Celtics NBA Playoffs for the 2008, 2009, and 2010 seasons, and at Madison Square Garden for the 2010 HBO Boxing Championship. Also, Teen Vogue and Seventeen Magazine events, Disney Pleasure Island, Six Flags, Hershey Park, Hard Rock Cafe, Day of the Child Concert at Santa Monica Airport, Radio Disney, 2010 Boston Nightlife Awards, Boston Music Awards, Miami Winter Music Conference, Viper Room at John Garabedian "Open House Party" at the 47th Annual Grammy Awards, the National Association for Campus Activities (NACA), and Bravo's Real Housewives of Atlanta.
WRITERS/PRODUCERS WHO WORKED WITH JADA
Akon, RedOne, Danja, Wyclef Jones, Dallas Austin, Swizz Beatz, JR Rotem, Toby Gad, The Jam, Ryan Tedder, Wayne Wilkins, Andrew Frmpaton, Savan Koetcha, Sturken & Rodgers, and RIO.
TELEVISION FEATURES: FOX, MTV, ABC, CBS, NBC, HBO, NECN, ESPN, E! Entertainment, and VH1. The FOX television show, "House", where Jada's debut single "American Cowboy" (written and produced by Akon and RedOne) was featured on the April 27, 2010 episode 'House Divided'. MTV television show, "The City", where Jada's single "Model That" (RedOne) was featured on the November 17, 2009 episode 'Forget About Boys'. John Garabedian "Open House Party", where Jada performed in The Viper Room at the 47th Annual Grammy Awards.
RADIO FEATURES
MTV Radio, KIIS LA, KISS Boston, and countless radio interviews on Top 40 stations across the country and internationally, including: WXKS KISS108 (Boston, MA), WKCI (New Haven, CT), WFLY (Albany, NY), WWHT (Syracuse, NY), WKSE (Buffalo, NY), WBHT & WKRZ (Wilkes-Barre, PA), WHKF (Harrisburg, PA), KIIS (Los Angeles, CA), KDND (Sacramento, CA), KSXY (Santa Rosa, CA), KWYL 102.9 & KWNZ 93.7 (Reno, NV), KHOP 95.1 (Modesto, CA), KHTS (San Diego, CA), KZZP (Phoenix, AZ), KSME & KKMG (Denver, CO), KZHT & KUDD (Salt Lake City, UT), WFLZ (Tampa, FL), WXXL (Orlando, FL), WHYI & WPOW (Miami, FL), WBZW & WKST (Pittsburg, PA), WNCI (Columbus, OH).
OTHER MEDIA FEATURES
USA Today, NY Post, Hollywood Reporter, CNBC, AOL, CNN.com, Seventeen.com, Women's Wear Daily, J-14 Magazine, LIFE Magazine, Radio Disney, TeenHollywood.com, Boston Globe, Boston Herald.
AFFILIATIONS/SPONSORSHIPS
MXL, MAC Cosmetics, Ambassador to Music Drives Us Foundation.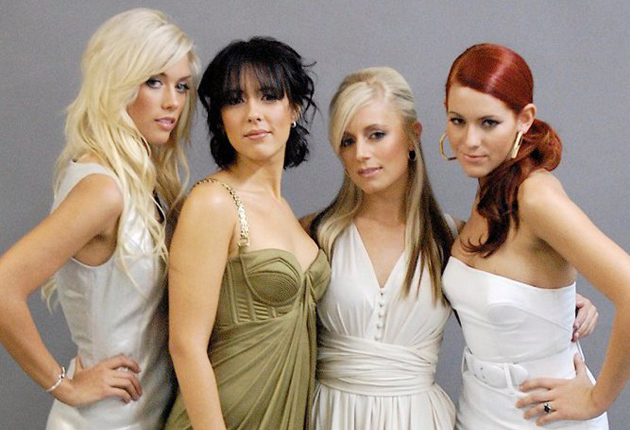 Discography
Singles
2012: Supersonique (produced by RIO, written by Jada and RIO)
2012: Mercy Killing (produced by RIO)
2012: Can't Let Go (produced by RIO)
2012: Goodbye (produced by RIO)
2011: This Party's on Fire (produced by RIO)
2009: Break Up Song (produced by Wayne Wilkins, Andrew Frampton, Savan Kotecha)
2009: American Cowboy, (produced by Akon, RedOne, soundtrack for TV show, "House")
2007: I'm that Chick (produced by JR Rotem, soundtrack for movie, Bring it On: In It to Win It)
Other Songs
2009: Play a Playa (produced by Wayne Wilkins, Andrew Frampton, Savan Kotecha)
2009: Shattered (produced by Sturken & Rodgers)
2009: Model That (produced by Danja)
2009: The Problem with Love (produced by Jordan Omley from The Jam)
2008: Is It Love (produced by Toby Gad and Jada)
2008: Denial (produced by Danja)
2008: Girl Just Do Your Thing (produced by Toby Gad and Jada)
2008: If You Wanna (produced by Ryan Tedder)
2008: Kiss and Tell (produced by The Insomniax)